There are few recipes that you better can make yourself. Pesto tastes so much better fom your own kitchen than from a jar! Grilled peppers, sundried tomatoes, garlic and cheesee, a delicious spicy combination with turkey and tagliatelle. A hearty winter dish, it could be exactly what you need right now!
Ingredients for 2 persons
1 red onion
1 clove garlic
2 zucchini
2 turkey fillets
10g fresh basil
20g cashew nuts
20g Gran Biraghi cheese (or another spicy cheese)
50g sundried tomatoes
150g grilled paprika
200g tagliatelle
250g cherry tomatoes
What else:
salt
black pepper
olive oil
sugar blender
large skillet
large saucepan
kitchen grater
a sexy woman to cook for

1. Preparing vegetables


Peeling the onion, halve and slice them thinly. Cut the Zucchini into 1 cm slices. Halve the cherry tomatoes. Finely chop the basil. Bring a large saucepan with plenty of water and 1 teaspoon salt for the pasta
2. Pesto preparing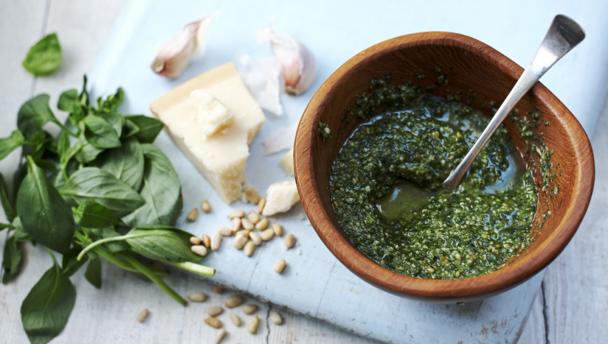 Peel the garlic. Cut the sundried tomatoes and grilled peppers in half. Cheese graters. Do everything in high cup or bowl with cashew nuts and a little bit oil. Blend it to puree delicious pesto. You can ad salt, pepper and a pinch of sugar for the taste.
3. Cooking tagliatelle


Once the water boils you can add the pasta for about 8-10 minutes until al dente. Use a pasta strainer drain and do it back in the pan, sprinkle with a little oil and mix well so the pasta does not stick together.
4. Baking meat


Pat the turkey dry and cut in about 2 cm cubes. Use a large skillet with oil and heat over medium. Back the turkey in about 5 minutes gold brown, then remove the pan and set it warm aside.
5. Baking vegetables


Reheat the skillet. Back about 3-5 minutes.
6. Serve your meal
Add tomato and basil with a bit of oil and salt and pepper for the taste. Do the onion and turkey back in the pan. Add the tagliatelle and pesto and toss with the vegetables. Reheat or rewarm the healthy courve and serve it with the pasta and salad. Bon Appetit;)