Hotels made of snow are not so obvious to book. But still, if you're looking for travel with a huge unique experience, would they consider the best choice ever. It may be quite cold inside and perhaps somewhat slippery, but it sure nice to experience it once! Therefore, 10 dope ice hotels in the winterparadise!
1. Arctic Snow Hotel in Rovaniemi, Finland


This ice hotel it really deserves this first place in the list. It never looks the same because several consecutive. Each year they change the architecture and interior of shape, size and lighting. In addition, each room is unique and equipped with alarm that sounds when it's time to view the Northern Lights. This makes sure you do not have to worry that you're in a deep hibernation when the beautiful light appears in the sky.

---
2. Kakslauttanen Igloo Village West, Finland


In this village in Finland are several properties, like glass igloos and snow igloos. The glass igloos are for comfort and luxury. When you stay here you can go through the glass ceiling watching the sky from your bed and enjoy the Northern Lights. The snow igloos for travelers who like to have a challenge. Namely, the inner temperature varies between -3 and -5 ° C.

---


3. Hotel de Glace, Canada


This is an authentic copy. It is even claimed that this is the only one of its kind in North America. To realize this hotel it takes 30 000 tons of snow and 500 tons of ice. The ice hotel consists of several rooms, a great hall, a chapel, a bar and a large slide of ice. Shouldn't be enough? Then tell me you love them here once more with the heated toilets and some outdoor hot tubs.

---


4. Balea Ice Hotel, Cartisoara, Romania


Based at an altitude of two kilometers above the sea level. The lighting, which is very prominent, the hotel gives the impression of a huge party. The hotel also has a very wide range for celebrating birthdays, weddings or other special recommendations. So if you still wanted to give a memorable birthday party, you know where you should be!

---
5. Kirkenes Snow Hotel, Norway


In the Kirkenes Snow Hotel is each room a treasure with a unique lighting, decoration and theme. It's a huge luxury hotel that meets the highest standards of the customer. The indoor temperature is constantly at 4 ° C.

---
6. Lainio Snow Village, Finland


In the beautiful Finland is the Lainio Snow Village with an area of less than 20 000 square meters. It is a magical winter terrain with a lot of amenities such as a hotel, restaurant, cocktail bar, slide, rooms and suites. Of course, all made from snow and ice. Through various lighting they put up an amazing atmosphere.

---
7. White Lounge Igloo Hotel, Mayrhofen, Austria


Looking for an active and adventurous holiday? Then this hotel in Austria would be an excellent choice! The hotel is located in the mountains and when you drive towards the highest point, you can go down by the largest cable car in Austria. The resort consists of seven different igloos which are designed to be a typical igloo-style. Additionally you can at the ice hotel for a tasty campfire with marshmallows after a thrilling torchlight procession through the mountains and you deserve to sleep in a warm sleeping bag in an igloo suite.

---
8. Igloo Hotel Grandvalira, Andorra


This luxury hotel is renowned for its special attention to the details. They have in fact charming decorations and carvings on the walls in the interior, creating a romantic atmosphere is unmatched. Moreover, the rooms are equipped with lights in different colors so as to strengthen the magical feeling of the traveler. The location of the hotel is perfect during a weekend skiing or just enjoying the wonderful beauty of the natural surroundings.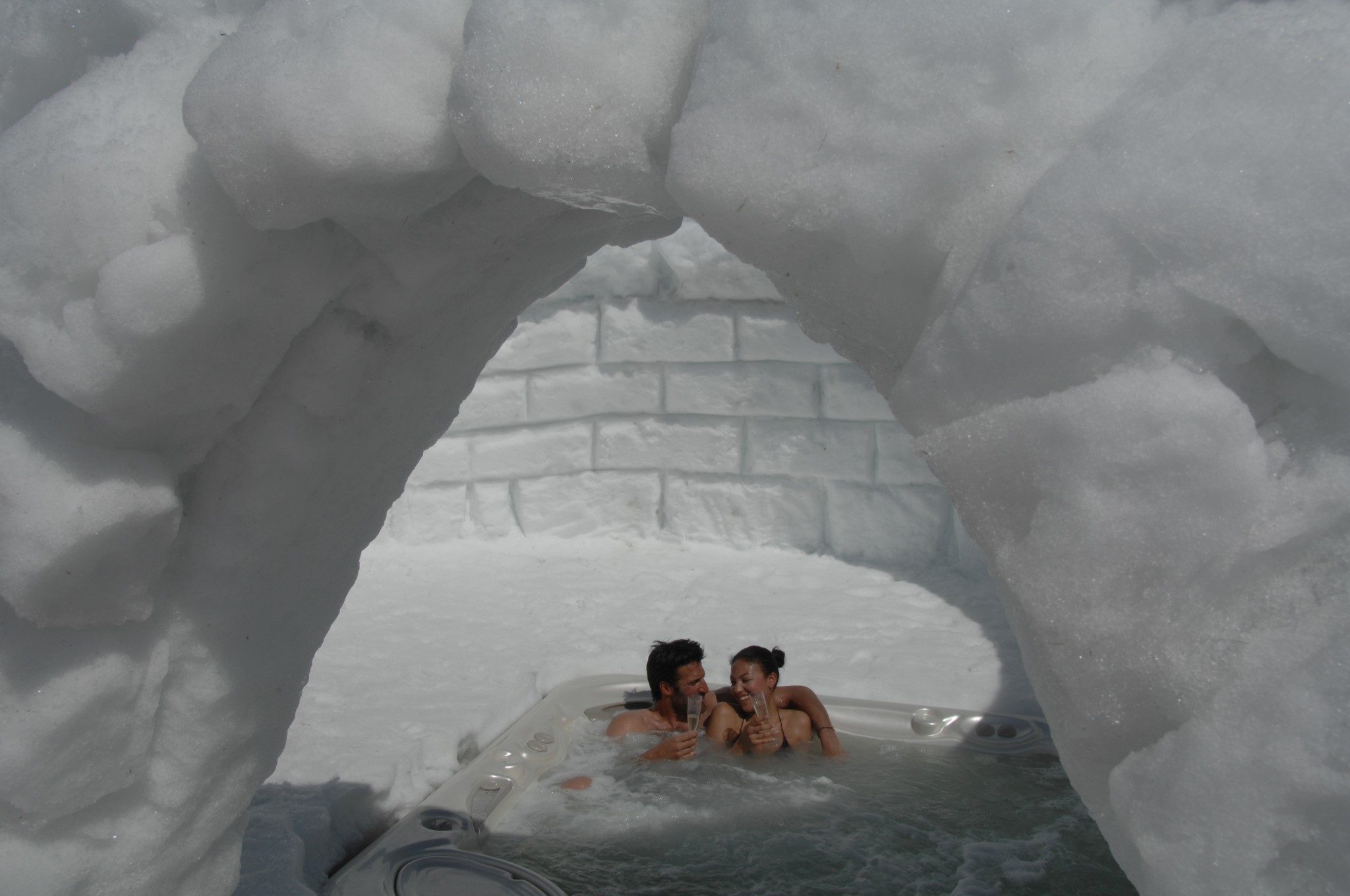 ---
9. Iglu-Dorf, Switzerland


This village of igloos in Switzerland is a very unique place. It is not only made of snow, but a room consists of just one room whit all amenities. From your bed you can roll squarely in the hot shower. Furthermore, the outside of a room looks just like a small dwarfcabin, but when you enter the room you will find yourself in a large and beautiful winter paradise. In addition, the different igloos through a tunnel system connected to each other so you can walk easily from one room to another.



10. Sorrisniva Igloo Hotel, Norway


The hotel is only 16 years old and was one of the first of its kind. It's equipped with 30 rooms and a shared ice chapel, ice bar and several lounges. From the inside it looks very stunning and charming off, the decorations are also made by professional ice artists. The indoor temperature is usually between -4 and -7 ° C, so even in the rooms. It's not that way too cold to sleep in right? Nope! According to the hotel, this is an ideal temperature for a deep sleep and relaxation. All the bedrooms feature extra thick sleeping bags and this ice hotel has about hot showers, saunas, and a great outdoor hot tub where you can enjoy the Northern Lights, if you're lucky;)